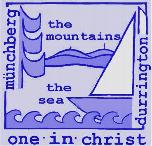 Durrington Community Link with Münchberg
A Brief History
There is something very special in friendship that is difficult to put into words but is wonderfully felt. Our community has a very special friendship with the community of Münchberg in Bavaria, Germany. Since the link started in 1996, well over 200 individuals from each community have visited, shared homes, worshipped together, shared dreams, attended special family events, and enjoyed a togetherness that characterises friendship.
It all started with a desire within our church membership to grow our awareness of God's wider family. Shortly afterwards, our Vicar Bob Aiton met Suzanne Kasch, Münchberg's Priest, at one of the Coburg Conferences where representatives of the Diocese of Chichester, evangelical Lutheran Church in Berlin-Brandenburg, the Lutheran Diocese of Bayreuth, and the Roman Catholic diocese of Bamberg meet to continue the Christian leadership of Bishop Bell and Dietrich Bonoeffer during WWII. Meetings were arranged in Münchberg and Durrington and the link has grown from then onwards. Many other churches in Sussex have similar links.
When a visit is arranged between the link churches community builds. The hosts meet and work together to build a programme and to expand their community to find new host families and those who wish to join in the events. We try to involve as many new families as possible.
The guests are bonded as they prepare their visit and the parish is involved in preparing small gifts to take to the church and host families. The community is strengthened between the 2 churches. We take it in turns to visit each other's country with us meeting every other year.