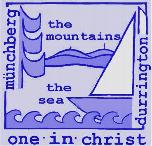 Durrington Community Link
with Münchberg
20th Anniversary of the Link
The first Link visit, back in 1996, was a small group of five:
Fr. Bob Aiton, Helena Buque, Irene Hedges, Shirley McCallum and Hilda Taylor visited families in Muenchberg in Germany.
The Link will be 20 years old in 2016 and is going strong.
Since the start of the Link 114 different people from Germany have made 214 visits to Durrington and 96 people from Durrington have made 217 visits to Germany. It is not just the visitors who form the Link but also the host families, the church family and everyone who works to make the visits succeed with excellent catering, outings and fellowship. Many have made personal visits and some have attended other celebrations.
We will be having a PARTY in July to celebrate this special anniversary and hope to include as many people as possible who have been involved in the Link since its inception.
The most recent Link visit was in August 2015 when 29 Germans came to Durrington. Many were families who had never been before. We still have many happy memories and here are some of their impressions of the visit:
· I am now filled with wonder, enthusiasm and gratefulness for this visit to Durrington which I will never forget.
· We enjoy the talks while having tea and biscuits or beans with bacon – swimming in the sea is the highlight.
· It was a wonderful week. The programme was interesting and full of variety with culture, history, worshipping, eating, singing and dancing.
· If in our daily lives we could treat each other with the same kindness and thoughtfulness as we experienced it in Durrington we would come closer to God's Kingdom and to his commandment.
· The highlight was the prayer walk – despite or precisely because of the weather
We hold informal get-together or fellowship evenings to keep the joy of the link alive approximately every three months. Look out for details in the parish magazine. In January 2016 we had a 'Burns Night' celebration to raise funds for the Link. Our next major fundraising event will be a 'Trafalgar Night' celebration on October 22nd. Also, in October Bishop Martin is going to Bayreuth in Germany to celebrate the international partnerships. We are also invited to attend and to stay with host families in Muenchberg. Our next parish visit to Muenchberg will be in 2017, dates not yet decided but will be during the school summer holidays.
If you would like to join in with any of the events please contact Yvonne. For more information on the history of the Munchberg link, please click here.