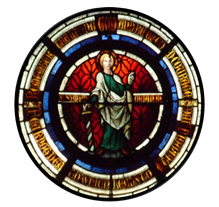 In our church, St Symphorian is depicted in two stained glass windows. The circular window in the Baptistry shows St Symphorian with words of his mother around the edge of the window. In the east window St Symphorian is kneeling and behind him is a soldier with a raised sword, just before his martyrdom.
The feast of St Symphorian is kept on 22nd August each year.
St Symphorian is the patron saint against eye problems and against syphilis, Autun (France), children, and students.
Other Churches dedicated to St Symphorian:
Genesius of Clermont built a church dedicated to St Symphorian at Clermont. The Parish Churches of Veryan and Forrabury in Cornwall are also dedicated to St Symphorian.
Symphorian lived in Autun in Gaul (modern day France) in the second century. He was the son of Senator Faustus and Blessed Augusta. Being from a noble Christian family, Symphorian had been baptised by St Benignus and was well educated.
In 178AD, Autun was one of the most ancient and famous cities of Gaul and, at that time, very superstitious. The people worshipped Cybele (mother goddess of Phrygia), Apollo (son of Zeus) and Diana (Italian goddess of woods, women, childbirth and the moon). Once a year, the statue of Cybele was processed through the streets on a richly decorated chariot. Everyone worshipped the statue but Symphorian asked for the tools to destroy it. He was seized by the crowd and taken to Heraclius, governor of the province.
Heraclius asked Symphorian why he had refused to adore the statue of Cybele. Symphorian answered he was a Christian and worshipped the true God who reigns in Heaven. Symphorian was bound and, after he continued to express his hatred for the idol, Heraclius commanded that he was to be cruelly beaten with clubs and sent to prison for heresy.
Two days later, Symphorian was brought out of his dark dungeon and presented before the court. Because of his noble birth, Symphorian was given a second chance and offered bribes. When Symphorian refused, Heraclius condemned Symphorian to be beheaded by the sword.
As Symphorian was carried out of the town to execution, his mother, standing on the city walls, cried out, "My son, my son, Symphorian: remember the living God, and be of good courage. Raise your heart to Heaven, and consider him that reigns there. Fear not death which leads to eternal life."
Symphorian's body was carried away by an unknown religious person and buried in a cave, near a fountain. His tomb became famous for miracles, and in the middle of the fifth century Euphronius, a priest and later Bishop of Autun, built a church over the grave. The church was connected with a monastery, which belonged to the Congregation of Sainte-Geneviève from 1656 until its suppression in 1791. Abbot Germanus later became Bishop of Paris, and dedicated a chapel to the saint.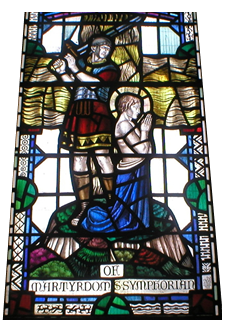 "My son, my son, Symphorian: remember the living God, and be of good courage. Raise your heart to Heaven, and consider Him that reigns there. Fear not death which leads to eternal life."
Blessed Augusta at Symphorian's execution